More is Always Better
In America we like things big. We love more. SUVs. Warehouse stores. Venti Americano Espresso. Two (make that three) scoops of ice cream. We don't often settle for dainty, European-sized portions. Even Sir Mix-A-Lot rapped about his love for large items.
And so, in the pursuit of more, we celebrate that unique American pastime of heaping even more STUFF upon our ice cream or frozen yogurt. It's not enough for us to enjoy the flavor of the ice cream itself. We must augment it with as much extra as possible. Yes, I'm referring to the TOPPINGS. Spoon University gives their list of favorites, but there are so many more.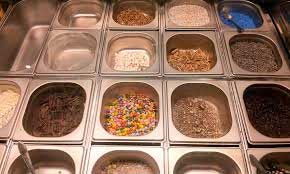 In the old days a sprinkle of chopped nuts atop our ice cream sundaes would suffice. Those days are long gone. Look at any fro-yo shop in the country and you'll be bombarded with choices with which to top the mountain of yogurt you just squeezed into your cup.
In praise of toppings I list (in no particular order) the demure and sublime things we love to put on our frozen desserts:
Maraschino cherries
Kiwi slices
Strawberries
Almonds
Peanuts
Pecans
Walnuts
Add your nut of choice
Gummi Bears
Butterfinger bits
Reeses minis
M&Ms
Oreos
Brownies
Candy Sprinkles
Cereal (usually Fruity Pebbles)
Etc.
The desire for more and even oddities like gummi bears is a uniquely American trait. Maybe it's our desire to expand West. Like our forefathers in covered wagons, our endless selection of ice cream toppings is part of us. And we apparently like it this way.
To those of you who aren't Americans, maybe all this seems a little crazy. Like we've gone too far. Maybe we have, but don't knock it till you've tried a pound of pistachio frozen yogurt covered in Butterfinger bits, fudge brownie bites and anough sprinkles that you can't see the yogurt they're covering. We may just win you over!