Indian Ice Cream
Jose Mier here in my Sun Valley, California freezer once more. This time I have something that is not well known in most of the United States. It's an Indian style ice cream called kulfi. While it may be popular in the Indian community here it's relatively unknown to the rest of us so I wanted to add to my list of the world's favorite frozen desserts.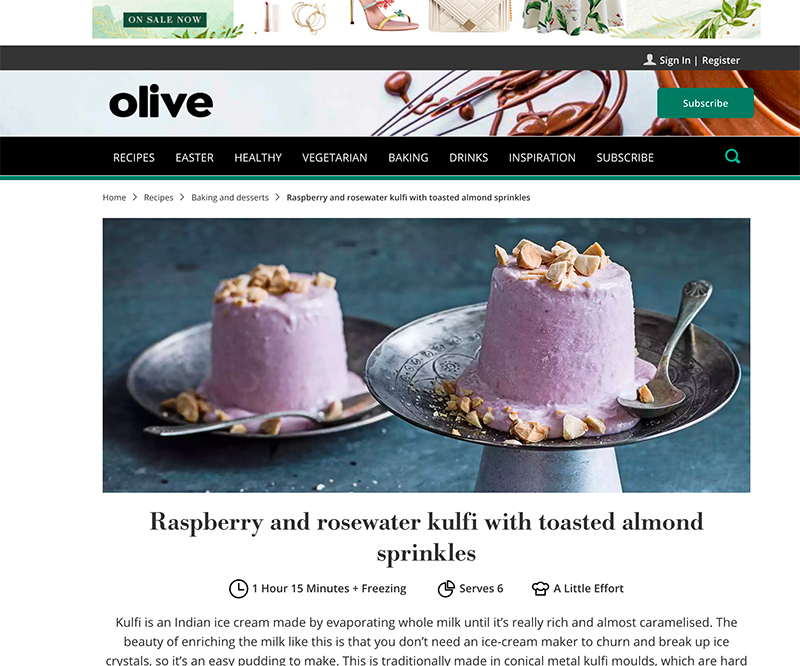 Kulfi is made by a evaporating whole milk until it's exceedingly rich. As the recipe on the Olive magazine website says, this is great because you don't need an ice cream maker to break up ice crystals. Kulfi is traditionally made it special conical molds. The Olive website says that these are even difficult to find even in the UK and I suspect they will be even more difficult to find in the United States. If you look up kulfi molds online you'll see what talking about. If you do choose to make this you'll need to find replacement molds.
Ingredients for this dessert include whole milk, condensed milk, raspberries, rose water, vegetable oil and some blanched almonds. To create this simmer the milk until reduced by three fourths then you'll strain it through a sieve. Stir in the condensed milk and let it cool. Add the raspberries to a food processor and mix until liquid then strain this through a sieve into the milk mixture. And some rose water and you'll be ready to put them into your molds. Vegetable oil is used to lubricate the molds to make it easy to pop the ice cream out of them. Freeze for six hours or overnight and they're ready to go. Use the blanched almonds as a garnish by toasting them over high heat for a few minutes and then chop them up and sprinkle them over you're your kulfi.
If you're interested in making this let me know how it turns out and how you like it. There are other kulfi recipes available online since it is a very popular Indian dish. I'm also including the YouTube video with another recipe on how to make this famous frozen dessert.
Summary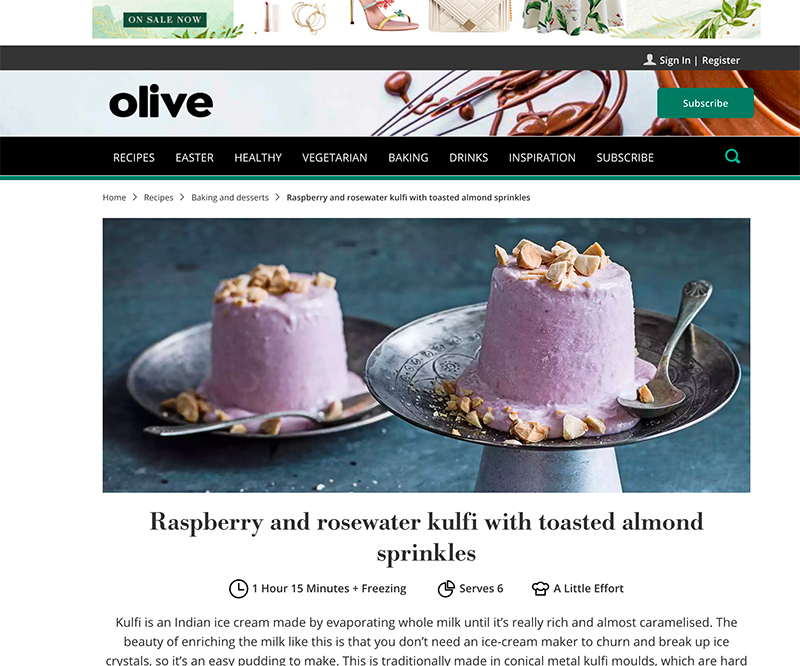 Article Name
Frozen Jose Mier Meets Kulfi
Description
Jose Mier profiles one of the most famous frozen desserts: kulfi. This Indian ice cream is virtually unknown in the U.S. but adventurous diners should try it!
Author
Publisher Name
Publisher Logo