Another Retro Dessert from Epicurious
Frozen Jose Mier has listed a lot of frozen desserts, many of which are new creations or novelties but just like my Frozen Jose Mier post on Baked Alaska, this one harkens back to a time decades past. We don't often see bombes these days, but that will make the presentation of this massive desert all the more interesting to your guests or family.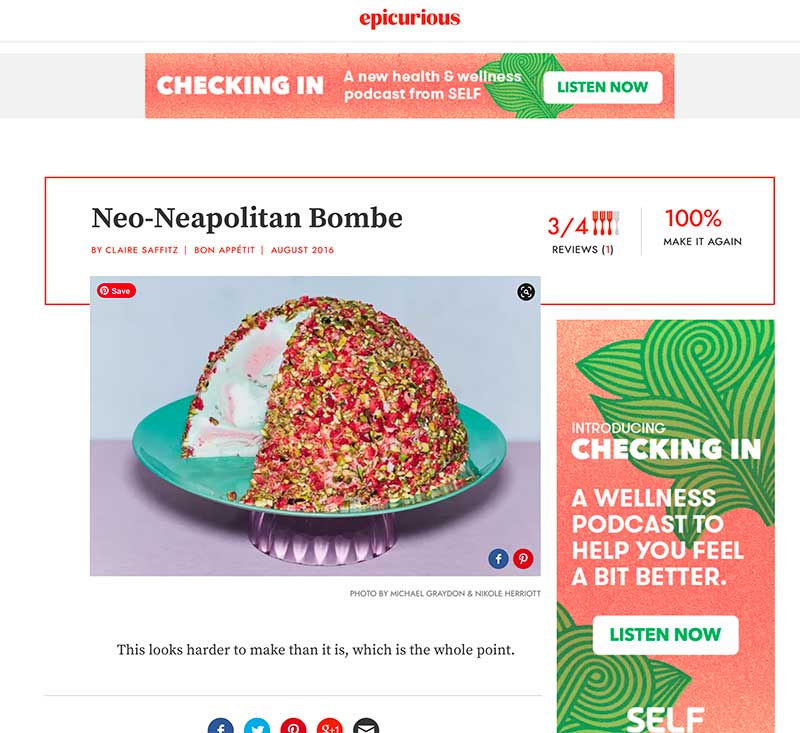 What's a bombe? Basically it's a hemispherical dessert. The one I'm profiling today comes once more from Epicurious.com who call it a Neo-Neapolitan Bombe. Like earlier recipes I've written about this one is much simpler than it looks, which is great because your guests we'll think you labored over this for hours. In reality it's just three softened ice creams mixed together and refrozen into a hemisphere. Once frozen, that hemisphere is topped with freeze-dried strawberries and pistachios.
You can't get much simpler. All you need are the three ice creams: coconut, strawberry pistachio, which take the place of the traditional Neapolitan ice cream flavors. The recipe on Epicurious will go into greater detail but what I've written above is basically it. Take the ice creams, cut them into chunks, put them in a bowl until a little soft then mix together and freeze. Once it's re-hardened you'll top it with the nuts and fruits.
Serving it is what will draw gasps from your guests. Cutting into this monstrous desert will have your guests' mouths watering as you slice wedges to serve. Plus, once you cut into it the psychedelic swirls of the ice creams will be a visual treat.
If you're looking for something that's astounding but also simple this Neapolitan bomb is sure to be a hit.
Summary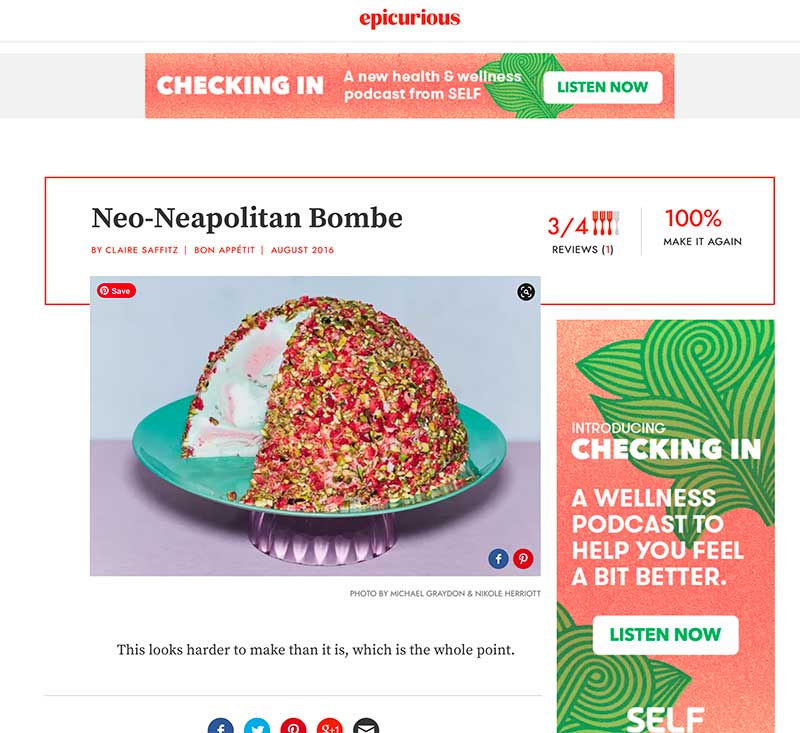 Article Name
Description
Jose Mier writes about Epicurious' Neo-Neapolitan Bombe. A retro dessert that is easy but will have guest jaws dropping when you serve it.
Author
Publisher Name
Publisher Logo