Banana Split Ice Cream Cake
Has profiled a lot of desserts and 99% of the time I urge my readers to try the recipes for themselves. Most of these recipes have been very easy and take a short amount of time to put together. The one I'm about to lay on you is something it's going to take a significant amount of effort. This is something you want to pull out of the drawer when you've got time on your hands or if you really want to make something spectacular as a dessert for your guests. I'm talking about a banana split ice cream cake.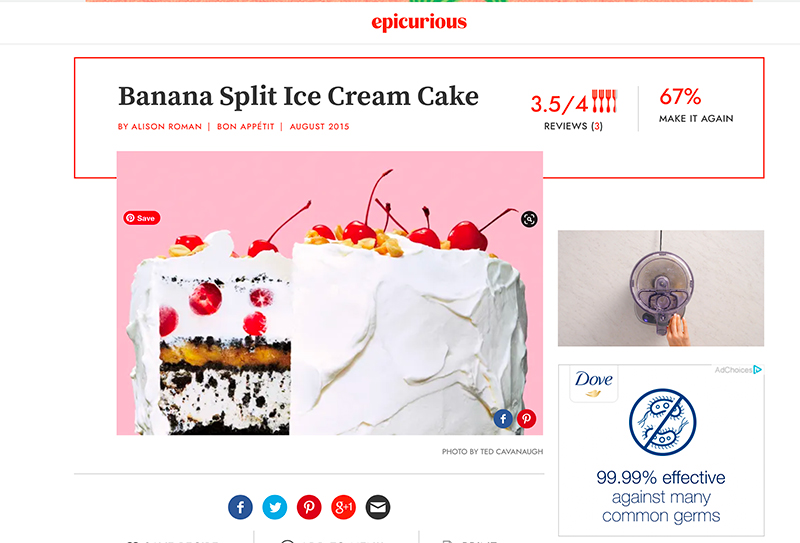 Once again Epicurious.com provides us with an exciting dessert. This banana split ice cream cake contains all the flavors you would find in a real banana split, like bananas, maraschino cherries, peanuts and caramel sauce. I think you can see from the photo on this page that the result is truly impressive. With that said, prepare yourself for a real project.
Follow along with the recipe on Epicurious.com. You're going to need to create a chocolate cookie crumble which includes chocolate wafer cookies, coconut oil and some salt. You'll also need to prepare the caramel-banana jam for which you need sugar, bananas, heavy cream and salt.
When you start putting this together you will need 5 pints of vanilla ice cream. I recommend getting the best ice cream you can and not skimping. I've talked about this in earlier Frozen Jose Mier posts, but I can tell the quality of ice cream by the weight of the container. Cheaper ice creams at the grocery store will weigh significantly less than others that have a higher fat content. Don't be fooled by claims of "deluxe" or "slow churned." You may find store brands that fit the bill but if not go for something like Häagen-Dazs which is a premium ice cream. Yes it's pricey but for this project it's worth it.
The banana split ingredients will be incorporated into the softened vanilla ice cream such as the maraschino cherries and peanuts. This is going to be similar to a cheesecake with a Graham cracker crust but here we're using chocolate cookies. These will be pressed into a springform pan and then you will assemble the rest of the cake in layers.
Readers of Epicurious.com have made this recipe themselves with great results and one case the reader said her guests raved about the cake. After all, isn't that what all the effort is for? If you're looking for something that will really impress guests, family or friends this is it. And don't worry too much about the effort. It's not brain surgery. Follow the recipe and you'll be good to go. One caveat: make sure you have enough room in your freezer to place the cake. You don't want to create this masterpiece only to find you don't have sufficient room freeze it!
Summary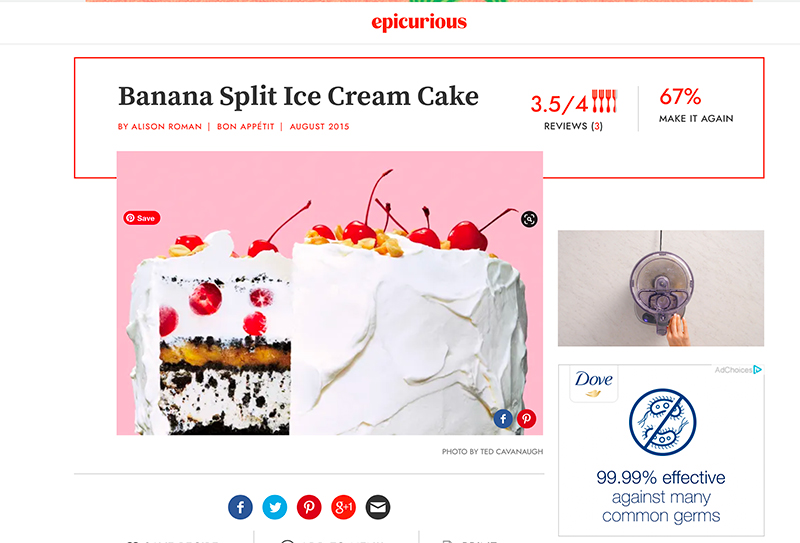 Article Name
Jose Mier Has a Dessert Project for You
Description
Jose Mier has found another great Epicurious recipe. This one is quite a project: banana split ice cream cake. Time-intensive but spectacular.
Author
Publisher Name
Publisher Logo