Frozen Jose Mier Shares the Good Food Website Recipe
Jose Mier reporting from my Sun Valley, CA deep freezer where I keep all my favorite dessert ingredients. My greatest joy is stumbling upon a recipe I haven't seen before and getting to make it. That's what all my ingredients therefore in this case my freezer was well-stocked for the dessert recipe I found online.
For those who have never heard of it– And I count myself as one of those–the BBC (British broadcasting Corporation) also has a food/Recipe website called Good Food. It was this website that came up in my search for a new frozen desserts that I haven't tried before, so I clicked on the link and the first thing that appeared was this recipe that I'm now sharing for a raspberry dark chocolate frozen terrine.
Let me back up a step and say that when I wear my hot foods chef hat I make use of the terrine frequently, hiring in layers upon layers inside of a bread or cake pan. Well there's nothing to stop us from using the Same technique for frozen foods and specifically a frozen dessert. If you check out the good website you'll see almost Immediately that is written in British English and that they use metric measurements instead of imperial as we do. There are a few exceptions they talk about teaspoons or tablespoons but most of the recipes include ingredients in milliliters or grams, etc. So, you and I will have to do a little bit of conversion, which is not hard and turn these metric measurements into what I like to call "real" or "American" which is of course the best System of measurement. Wink, wink.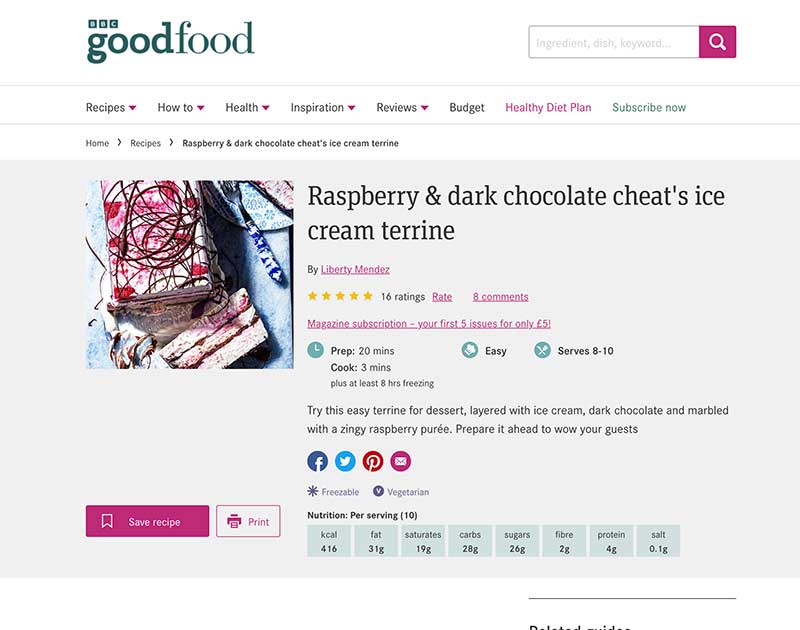 Some other British terms that may throw American cooks off are things like caster sugar which in our American dialect this powdered sugar as well as double cream which we refer to his heavy cream. So aside from that your are the ingredients (I've Americanized the measurements):
8 oz raspberries
1 tbsp powdered sugar
½ lemon, juiced
13 oz heavy cream
1 tbsp vanilla paste
10 oz condensed milk
200g dark chocolate, melted and cooled slightly, plus extra for topping
STEP 1
Line a 30 oz bread pan with two sheets of baking parchment paper (overlapping), being sure to leave some overhanging on all sides of the pan. Put 6oz of the raspberries, the powdered sugar and lemon juice in a pan over medium heat, then let simmer for 3 minutes until a bit softened. Pour into a food processor and blend until smooth.
STEP 2
Whisk the heavy cream, vanilla and condensed milk by hand or with a hand mixer until soft peaks form. Add in the raspberry purée, then carefully stir a few times (fold in) to emulate a marble texture with the raspberry through the cream.
STEP 3
Put the remaining raspberries into the bottom of the lined pan. Cover these with about 1/3 of the cream mixture, making sure to spread it out evenly. "Bounce" the pan a few times on a hard surface to get the cream to completely cover the raspberries. With a spoon, drizzle 1/2 of the melted chocolate to cover the layer of cream. Then top this with another 1/3 of the cream mixture and again spread it out. Repeat the Drizzle of remaining chocolate and top it off with the remaining cream.
STEP 4
Now take the overhanging parchment and cover the top of the pan. Use more if these flaps don't cover the top completely, and freeze for 8 hrs minimum. Overnight would be better. Let the ice cream sit at room temperature for 10 mins before serving it. Flip the pan upside down and remove the "loaf" from it, and then drizzle some more melted chocolate over it for decoration. Use hot water to heat a knife, wipe it dry, and use it to slice the terrine into individual servings.
Shoppers tip: Here in Sun Valley, CA we have a Grocery Outlet which usually has good deals on ingredients. Ours in located at 8920 Glenoaks Blvd.
Try this recipe and let me know what you think. We'll compare notes!
Summary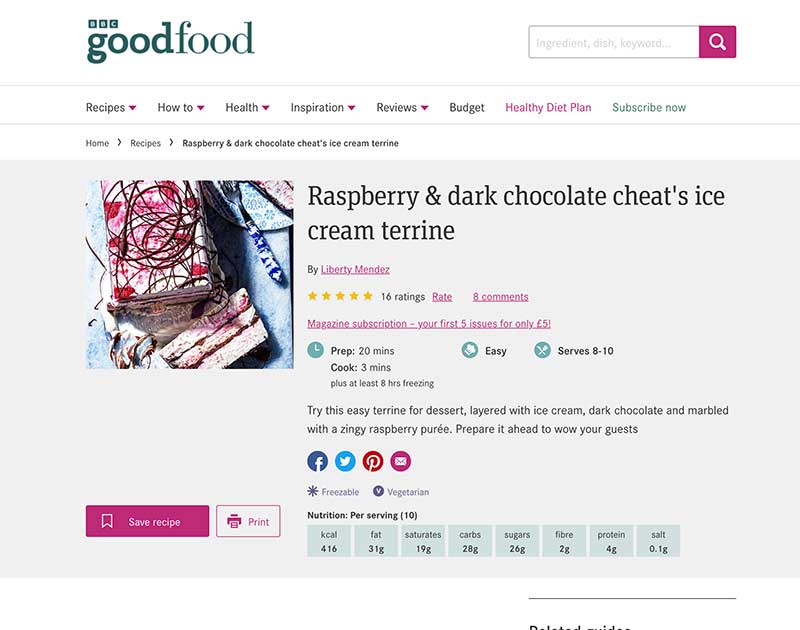 Recipe Name
Raspberry Dark Chocolate Terrine
Author Name
Published On
Preparation Time
Total Time