From Jose Mier's Deep Freeze:
When it comes to chocolate indulgence, another of my all-time favorite ice cream flavors is rocky road. This perfect mix of chocolate, chopped nuts and marshmallows satisfies every craving from sweet to salty. It's a staple at both the ice cream parlor and the ice cream aisle at the grocery store, and one of the most popular mixed-up flavors in the country. Rocky road is a versatile flavor; I enjoy it simply scooped into a large bowl on its own, or as the base of an epic banana split.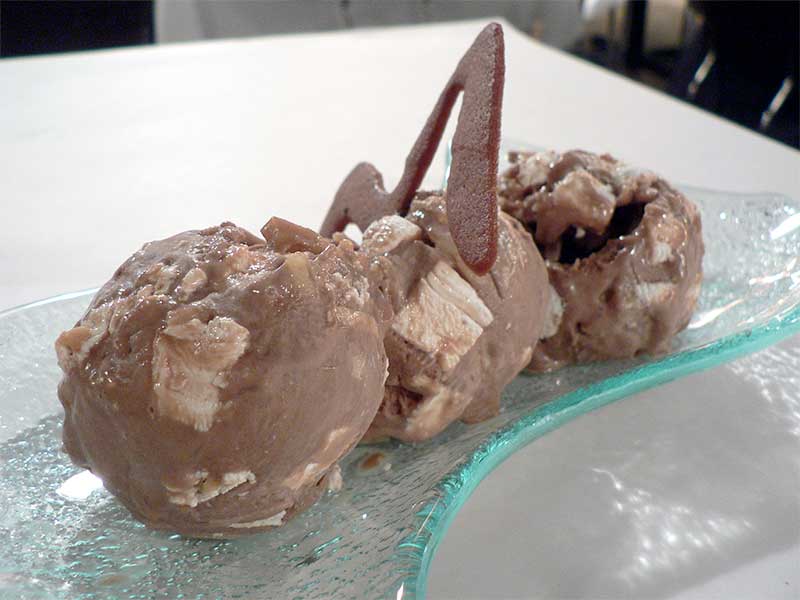 Rocky road ice cream is believed to have been founded in 1929 by a gentleman named William Dreyer in Oakland California. According to the legend, Dreyer used his wife's sewing scissors to chop nuts and marshmallow candies into his chocolate ice cream – and an iconic flavor was born. The flavor was popularized and served as a happy addition to the ice cream market during the end of the Great Depression.
Traditional rocky road ice cream consists of three main components:
• Chocolate ice cream – Plain and simple, creamy and dreamy. Rich chocolate ice cream is the base of this heavenly flavor.
• Nuts – Chopped nuts provide all the satisfying crunch with a hint of salt. Some rocky road ice cream variations have walnuts, but many commercial products contain sliced almonds.
• Marshmallows – I can't think of a sweet combination more delectable than marshmallows and chocolate. Marshmallow pieces add a sweet, soft and chewy burst of flavor to rocky road ice cream.
While these three ingredients are traditional, some ice cream makers add candies, chocolate pieces or fruits to their rocky road ice cream recipe.
The concept of "rocky road" is often recreated in other desserts like brownies, cake, no-bake bars and cookies, however, the original ice cream variation holds a special place in my heart.