Frozen Jose Mier Remains Skeptical
Don't get me wrong I love caramel apples. When I saw this flavor available at my local grocery store I snapped it up. Yes it did taste like apples and caramel but I wasn't a big fan of the texture of the ice cream. I think that says more about the store brand about the ice cream itself. I prefer ice cream sit have a thicker creamier texture and this one just didn't cut it. That's not to say that this can't be a delicious flavor and apparently Virginia, the Old Dominion State, really loves their caramel apple ice cream. Virginia is the sixth largest apple producing state in the union.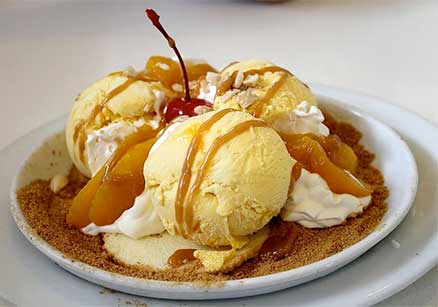 Virginia produces a lot of apples. These include Ginger Gold, Gala, McIntosh, Jonathan, Jonagold, Empire, Red Delicious, Stayman, Golden delicious, Rome, Honeycrisp, pink Lady, Fuji, Granny Smith, and York.
Caramel Apple ice cream is a kind of specialty flavor akin to firecracker ice cream which has its own article on Frozen Jose Mier. It's both a regional favorite and a seasonal item on grocers shelves. Based on my experience with the only store brand I was ever able to find I would much prefer to make this myself. Cookies and Cups, the website, has a recipe that I would try. They make use of granny Smith apples which are the traditional apples used in caramel apples.
There are also videos available all over that either promote this flavor or show you how to make it. The one I'm putting on this page is from the company High Road and they create this flavor of ice cream seasonally for the holidays. It was interesting to watch this video see their use of apple butter in the recipe. That something I think That's unique. I love apples and I love caramel apples so I'm open to trying another version of this recipe or making it myself. I recommend you make it yourself unless you know of a brand that you like. If this is your favorite flavor of ice cream you join the millions of other Virginians who love it to.