Jose Mier Visits the Empire State's Favorite
Do you remember the Duran Duran song, "Rio?" There's a line in it that goes, "cherry ice cream smile. I suppose it's very nice." Well, apparently New Yorkers think it's very nice too. New York cherry ice cream is the state's favorite flavor. There's something about summer with this flavor since cherries are a seasonal delight and the taste of them in an ice cream brings out the flavor of the season all year long.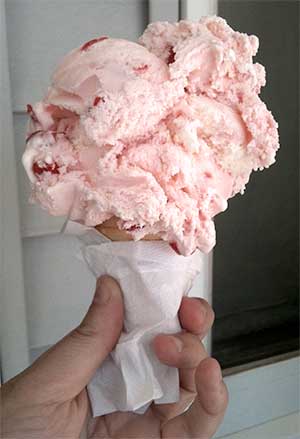 It's not hard to see why New York would pick this. Besides incorporating one of the state's signature fruits it's an opportunity for this northern state to enjoy something cold during the warmer months before winter hits and thoughts of ripe cherries are replaced by the hard reality of shoveling snow.
This is another simple but delectable flavor. It's one that's always on the menu at your local ice cream parlor alongside strawberry and chocolate but it doesn't have the same amount of fame as those former two. You don't necessarily need to be a cherry fanatic to love it but those who are go for this hands down. And it looks like a lot of New Yorkers are those kinds of people.
Always Available at My Sun Valley, CA Rite Aid
Because it's not exotic like a chocolate chili cone (see Frozen Jose Mier's earlier post) it's widely available just about everywhere—and year round too! One of the commercial ice creams I find living in Sun Valley, CA as I do is Thrifty. That used to be a drug store which blanketed Southern California for decades but it was bought out. Rite Aid is the replacement but they've kept the Thrifty brand ice cream and sell it pre-packaged as well as at the ice cream counters that are still a part of the stores. I can always go to my local Rite Aid which for me is 10465 Sunland Blvd, Tujunga, CA 91040.
For the adventurous among us, making your own super-fresh cherry ice cream is not hard and there are hundreds of easy recipes online and you don't have to go to New York to enjoy the taste. Once you whip up a batch you'll find a lot of cherry ice cream smiles looking back at you!