More Booze? You Bet!
Frozen Jose Mier is on a kick. A frozen alcohol kick. Can I help it if I've happened upon several recipes for frozen desserts the call for alcohol? You, of course, no doubt recall boozy snow cones in my recent Frozen Jose Mier article. At the risk of getting into a rut I've got another one: prosecco popsicles.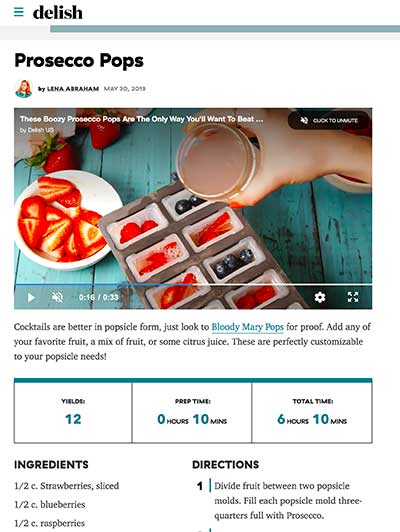 If you're unfamiliar with prosecco it's a very popular drink, similar to Champagne but a little sweeter, which makes it a perfect addition for a frozen treat. Now with all the articles I've written about frozen desserts containing alcohol, it made me wonder about the temperature at which alcohol freezes. It's well known that higher proof alcohols do not readily freeze but things like prosecco have a much lower alcohol content and freeze at higher temperatures. For those who want to know the science, alcohol freezes at between 32°F and -173°F. That last number is the temperature at which pure ethanol freezes. So any alcohol will freeze if the temperature is cold enough. As I said prosecco has a lower alcohol content so our kitchen freezers will have no problem chilling these pops to perfection.
Delish.com has a very easy recipe—indeed all recipes are very easy to prepare–taking only 10 minutes plus the time needed to freeze the pops. This dessert is very popular so there are other recipes and videos available online as well. The ingredients are simple: fruit, prosecco and lemonade. The only special tools you'll need are popsicle molds and sticks.
I know it's December and we're in the midst of winter but you'll have to agree that the whole purpose this website is to celebrate frozen desserts, so even if you're snowed in in Minnesota you can enjoy reading these articles as you thaw out by your fire. For me, living in Sun Valley, California, the weather is usually quite temperate so I can enjoy frozen desserts whenever I want—even outside if the mood strikes me.
You probably have some champagne or prosecco around to celebrate Christmas so why not take a bottle and create some prosecco popsicles of your own.
Summary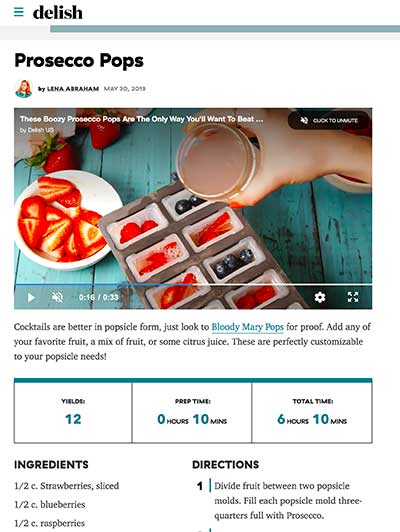 Article Name
Frozen Jose Mier and Prosecco Popsicles
Description
Jose Mier happened upon a recipe for prosecco popsicles. These are easy to make and take about 10 minutes. Prosecco, lemonade and fruit!
Author
Publisher Name
Publisher Logo