Jose Mier here. I've been working in the food service industry for years. This includes selling a LOT of ice cream to a LOT of kids (and adults too!). And why not? This frozen treat in its many forms is so indescribably delicious it goes without saying. And while I've dealt primarily with the commercial varieties of ice cream, I have developed an absolute love for this dessert that is mitigated only by my desire to remain fit.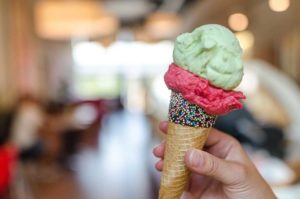 Notwithstanding my waist size, all things in moderation is a good rule of thumb. With ice cream, though, I might be forgiven for being a little bit less moderate than the average American.
I'm reminded on the Jame's Bond's opponent Goldfinger when he describes the gold that he loves so much. If I can paraphrase: "All my life, I have been in love with its color, its brilliance, its divine frozenness!
Whether it's soft serve, scooped from a barrel, topped with nuts or spooned alongside a ripe banana, I love this stuff. Keep visiting often as I explore the frozen world of ice cream as well as other frozen desserts from its origins to the fantastic things people are doing all over the world to make this ancient treat always new.