A Taste of Summer Fun from the Volunteer State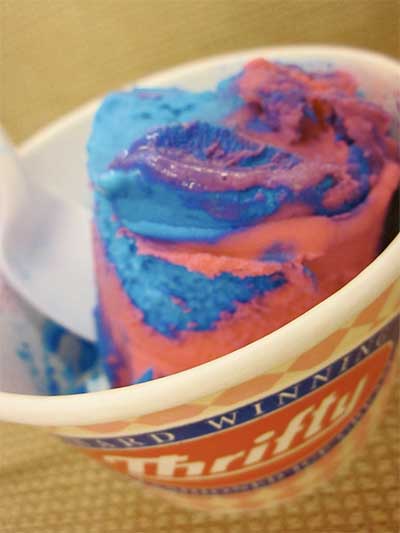 There's always something fun about cotton candy. The singular sugariness of this whispy treat is enjoyed by millions (mostly kids) around the world. Although in England and those parts they call it candy floss! It brings up images of state fairs and summertime so what's better in these hot summer months than cotton candy ice cream.
Turns out, cotton candy itself has its birthplace in Nashville, Tennessee in 1897 and this summer flavor is the state's favorite.
Unlike my last state fave, Payday, articles and recipes for this ice cream abound and you can easily make it at home. I tend toward the multicolored version but a single color ice cream will still taste as good. (For me there's something about those multicolored ice creams like Superman that draw me to them).
The flavor is based on the addition of cotton candy syrup which is readily available. The flavor is also one of the less obscure ones so even if you don't make it yourself you can snap some up at the supermarket. Baskin-Robbins also includes this flavor on their roster so you don't have to be in Tennessee to enjoy it. I know I can "scoop" some up any time I want in my home town of Sun Valley (greater Los Angeles, CA).
For us adults the opportunity to re-experience one of the flavors of childhood is a wonderful treat and with cotton candy ice cream on a cone we don't have to worry about the globs of sugar coating our fingers—unless it's a hot day and the ice cream melts fast. But we're all professional frozen dessert eaters here, right? We can make short work of anything on a cone when the need arises.
If you're in Nashville or LA, join me in volunteering to sample some cotton candy ice cream! Davy Crockett would be proud.