Okay, so the title is a reference to an old kids' live action TV show that only old-timers remember now, but one of the songs featured on this show was "Doin' the Banana Split."
Enough trivia. It's time to talk frozen desserts. We can certainly create more sophisticated desserts given time and effort, but there's something immediate and satisfying about ice cream. Perhaps that's why my most recent Frozen Jose Mier articles have been about ice cream. Heck, it's summer so no apologies for more ice cream posts.
I've concentrated on single flavors, mostly (even if those "flavors" are actually combinations of multiple flavors) but I think it's time we reintroduced and celebrated one of the most iconic American desserts: the banana split. They're always great to share with a special someone or devoured by oneself when feeling the urge. What is this heavenly creation that both kid and adult? History first.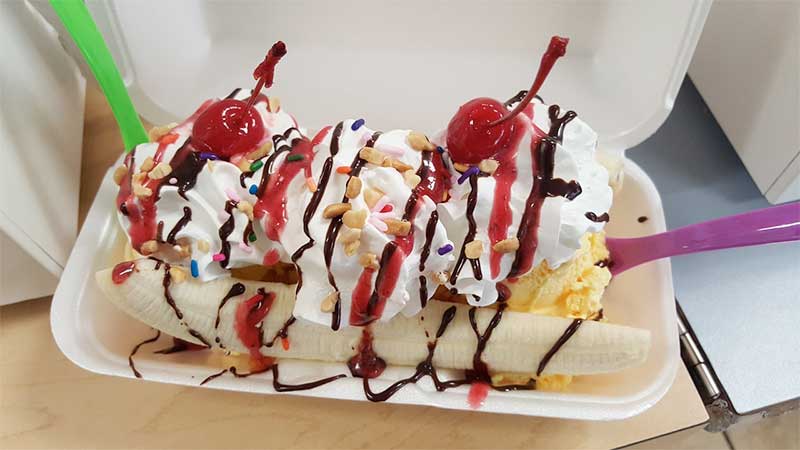 As you know, many of the ice creams I've profiled have interesting stories behind them. I refer you to Superman ice cream or Hokey-Pokey for openers. The banana split is no exception. It was created by a drug store employee in Latrobe, Pennsylvania in 1906. Unlike other creations (Blue Moon for example) this concoction proved so popular it has broken out of any regional bounds and can be found in virtually every ice cream shop in the country.
The sum of its parts far outweighs the individual ingredients, delectable though each may be. Of course it starts with that tropical fruit, the banana. As an aside, the appearance of the banana split coincided with the arrival of the fruit in America just a few years prior. What we now find ubiquitous was, at the time, kind of exotic and a novelty. Bananas did not gain their popularity until the start of the 20th century. The banana split is sort of a time capsule, capturing for posterity what was at the time something new and unknown.
One split banana is the base. To it, add scoops of vanilla, strawberry and chocolate ice cream. In addition to the banana it's the toppings that make it what it is and these are hot fudge sauce, strawberry sauce and pineapple sauce (distributed atop the chocolate, strawberry and vanilla scoops, respectively). Finish with whipped cream, chopped peanuts and maraschino cherries. It is at once cold, hot, creamy, fruity and exotic.
There's no wonder this so typical American dessert has earned its place is frozen dessert history. The size of it and the colors simply make a simple, bold and delicious statement.
As we approach July 4th, this is the perfect time to celebrate this admirable concoction. It makes a droolworthy treat following any backyard BBQ. So to you, banana split, Jose Mier salutes you!