There's absolutely nothing wrong with ice cream in its pure unadulterated form, but for a real treat, one of my favorites has got to be the ice cream sundae.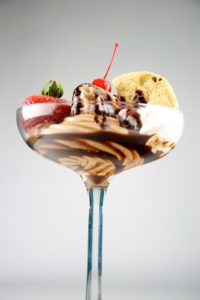 Illinois, late 1800s: Ice cream soda is the newest craze in the world of desserts, but there's a problem – Blue laws forbid drinking soda on Sundays. In order to satisfy customers without breaking the law, pharmacists (yes, ice cream was sold by pharmacists at the time!) start serving ice cream with chocolate sauce – and voila! A new dessert called sundae is born!
In the years to follow, sundaes got many variations: they came with different toppings, nut sprinkles, fruit and whipped cream. The owner of C.C.Brown's Ice Cream Shop in Los Angeles, California called (you'd never guess) C.C.Brown was also experimenting with sundaes – he wanted to create a fusion of hot and cold, and after a few attempts he finally found the perfect combination.
Hot fudge sundaes were the next big thing! The mix of creamy, hot fudge and vanilla ice cream topped with whipped cream and nut sprinkles soon became one of the most popular American desserts – so popular, that it even has it's own National day. But you don't have to wait until July 25th to enjoy this delicious treat – make one yourself with this classic recipe.
Ingredients:
• 1 pint condensed milk
• 10 fl oz single cream
• 14 fl oz creme fraiche
• 2 teaspoons vanilla extract
• 8 oz dark chocolate
• 170g tin evaporated milk
• 3 oz mixed nuts
• 6 dessertspoons whipped cream
To make vanilla ice cream, mix together condensed milk, single cream, creme fraiche and vanilla extract using an electric hand mixer. Pour the mixture into a freezer box, and leave it in the freezer for 2 hours, then whisk it to break down ice crystals, put it back to freezer and whisk again after 3 more hours. The ice cream should get serving consistency 6-8 hours into freezing.
To make hot fudge, pour the evaporated milk into a heatproof bowl and add chopped dark chocolate. Steam cook this for around 10 minutes – when the chocolate melts and gets a creamy texture the hot fudge sauce is done.
For each sundae, place 3 scoops of vanilla ice cream into a serving glass and pour hot fudge sauce over it, then add a dessertspoon of whipped cream and sprinkle some chopped nuts over. Pro tip: you can add a candied cherry on top to give this dessert a final touch. Your hot fudge sundae is done!
Bon apetit!