New Mexico's Chocolate Chili Ice Cream
New Mexico is known as the home of many types of chilis. In fact ristras (a type of wreath) of red chilis is a common decoration in many New Mexican homes and restaurants. It's not surprising therefore that their signature ice cream would include a touch of spice. Chili, that is. It's a different kind of heat than Frozen Jose Mier wrote about in Firecracker ice cream. Not the heat of cinnamon but that of pure sun-dried New Mexico chili.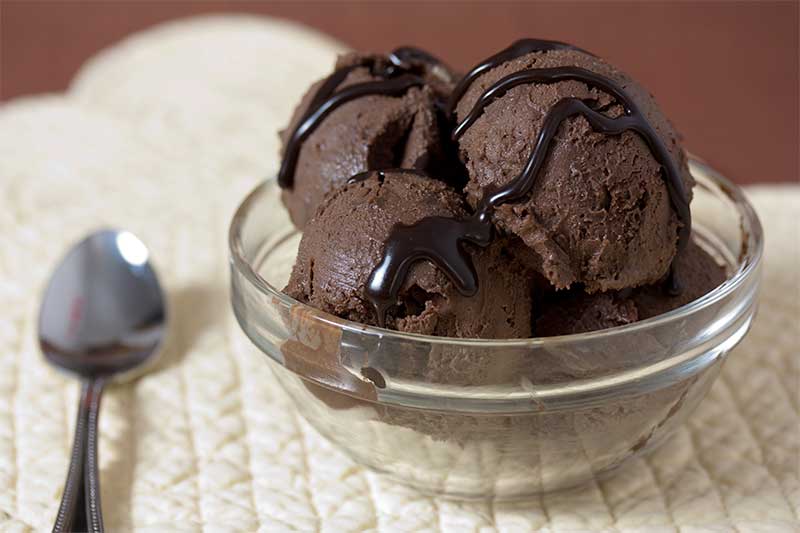 The use of chili to bring out the flavor of chocolate and add a dash of "picante" to an otherwise sweet treat has gained popularity in recent years. Specialty chocolate houses routinely add a sprinkle of chili powder to their morsels to give them an extra kick and people seem to love it.
New Mexico with all it's Hispanic and Mexican influences it's no stretch that it would end up in almost everything—including ice cream.
The recipes vary but the concept is really simple: sprinkle a pinch of chili powder on top of chocolate ice cream to give this frozen dessert a bit of heat. Not too much. Just enough to get those taste buds tingling and coming back for more. If you want to make it yourself you can simply shake a bit atop your favorite brand of chocolate ice cream. Otherwise you can get as creative as you like. For me, the best version is chili on a dark chocolate ice cream. There's something about the rich and slightly bitter dark chocolate that lends itself to the addition of chili. I'd go even further and add chunck of the dark stuff to the ice cream for a bit more chewiness.
This is another ice cream that you won't find on many parlors' menus. I've searched my Los Angeles area far and wide and came up empty handed. No, this is a specialty ice cream you'll either need to happen upon or make yourself—but it's no sweat. Well, maybe a little when the chili kicks in!
If you're looking to keep cool but still want a bit of heat at the same time, try New Mexico's favorite ice cream and chill with some chili!